U.S. President Donald Trump speaks about the coronavirus in the James Brady Press Briefing Room of the White House, in Washington, D.C., U.S., April 6, 2020. /AP
On April 5, 2020, Fareed Zakaria, a political pundit and host of CNN's popular show GPS, made some important assertions.
He said that economic collapse of the existing financial architecture, political turmoil, terrorism, abject poverty, and the overall collapse of the status quo as we know it will be devastating, and then it will be too late for cooperation, the proverbial ship would have already sailed.
I concur with Zakaria that while the challenge is broad and overarching, the response to it has unfortunately been narrow and parochial.
When the COVID-19 first took place, there was a difference in the approach of China and the U.S. – the former prioritized saving lives whilst the latter prioritized saving the economy – it is a tight rope to walk, between choosing one over the other, as both are closely intertwined and interdependent.
While every country has its own national priorities and differences in their ways and means of governance, today's international system or the globalized world has some key shared interests: 1) economic and political stability 2) unhindered and smooth international trade 3) international mobility (tourism and travel), 4) adherence to respect and sanctity of other state's core interests. COVID-19 threatens all four of these shared interests.
We see a vacuum of leadership with the current pandemic, whilst the Chinese government and Chinese companies like Alibaba are stepping up and assisting the developed and developing countries alike.
Foregoing political partisanship, China has also sent a plane carrying medical equipment to the U.S., demonstrating to the world that it's commitment to cooperation and humanity takes precedence over politics.
This approach does not only serve the interests of China but that of the whole world, as global cooperation is the only way forward.
Today, global cooperation is not a choice, but a necessity. This is the time where the United States can join hands with China and other leading economies of the world to address the surging COVID-19, that knows no borders, social credentials, castes and creed – it does not discriminate.
Whether it is making a vaccine, sharing experiences, learning from successful crisis management techniques like the one applied in Wuhan and the rest of China, this is the time to do it.
Also, with globalization comes a certain responsibility that countries and people both have to shoulder. In particular, those countries which have been trail blazers of globalization like the United States, Germany, France and China, have reaped its dividends by international market access, e-commerce, tourism and have a bigger responsibility to address and contain the COVID-19 challenge.
Needless to say, if globalization was not as it is today, COVID-19's impact would be one-fourth of what it is today, as its spread would be much slower.
On March 20, 2020, Foreign Policy magazine published an article by 12 leading global analysts titled, "How the world will look after the coronavirus pandemic."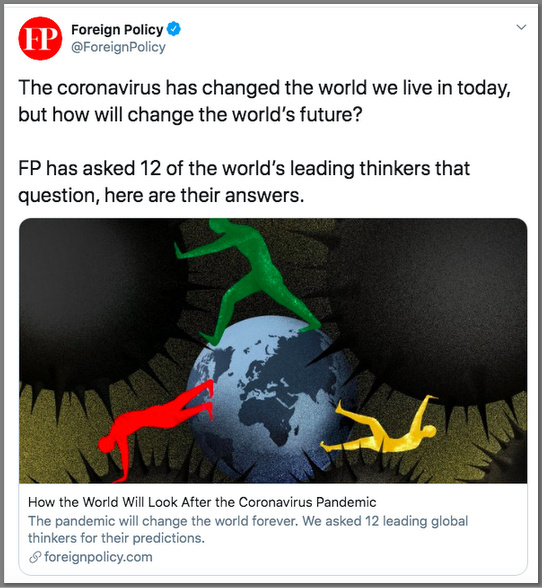 Screenshot of Foreign Policy magazine's Twitter shows a joint article by 12 global thinkers on the impacts of COVID-19.
In it, Harvard University professor Joseph Nye stated that the national security strategy that Trump announced in 2017 has been proved inadequate by the COVID-19. The United States cannot prevail as a great power by acting alone, and needs global cooperation and outreach in protecting its security.
"On transnational threats like COVID-19 and climate change, it is not enough to think of American power over other nations. The key to success is also learning the importance of power with others. COVID-19 shows we are failing to adjust our strategy to this new world."
Globalization begets globalization, and the world needs to be protected and then healed. If there is a lesson from COVID-19, that is no single country, entity or military can go it alone – and it is in every major power's interest to cooperate and engage with the rest of the world.
The U.S. is the largest economy of the world and the rest of the world needs it right now, and it must show responsibility and a bipartisan approach in dealing with the COVID-19.
Calling the COVID-19 as it is scientifically named is a great first step, but the U.S. must do more, and it must work together with China.
Editor's note: Mustafa Hyder Sayed is executive director of the Pakistan-China Institute. First Published by cgtn.com.